---
Step 2: After filing the return, visit income tax efiling website. Here, on the right-side click on button "Login Here". The screenshot below will open, now provide the required details & log-in to your account. (User ID is your PAN number & Password as set by you while registering on the website).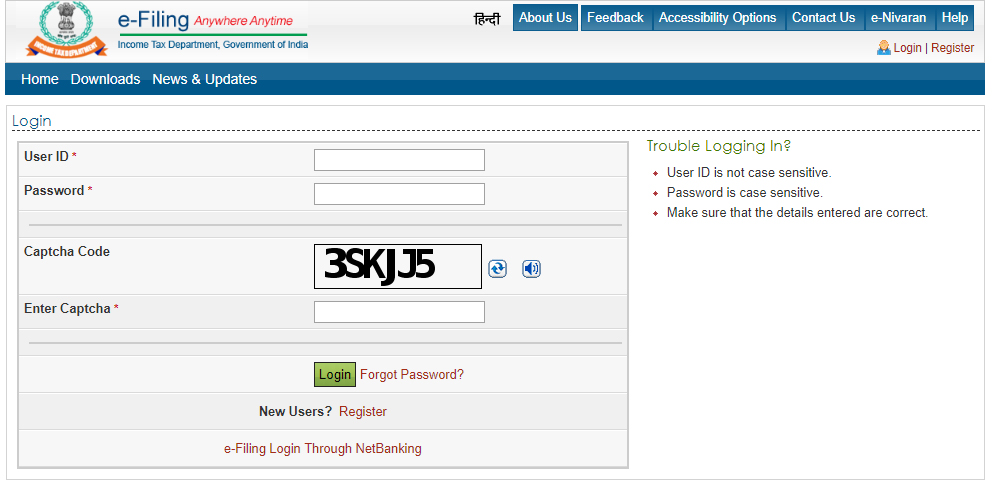 ---
Step 3: Once you login, click on the option "View Returns/ Forms". Here information of all your Income Tax Returns is stored for quick reference.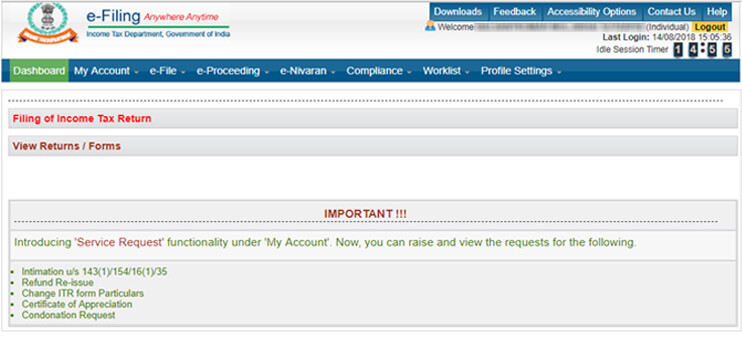 ---
Step 4: On this page, open the drop-down menu and select option "Income Tax Returns". After this click on "Submit" button.

---
Step 5: You will be redirected to the screen as shown below. Here, for the relevant AY (for ITR of FY 2017-18, the AY is 2018-19) click on the Acknowledgement Number.
---
Step 6: On this page, under heading Downloads/ Status Description, click on "ITR-V/ Acknowledgement". Now your ITR-V will start downloading and after this open the file from the location where it has saved.

Your ITR-V will be as the sample given below.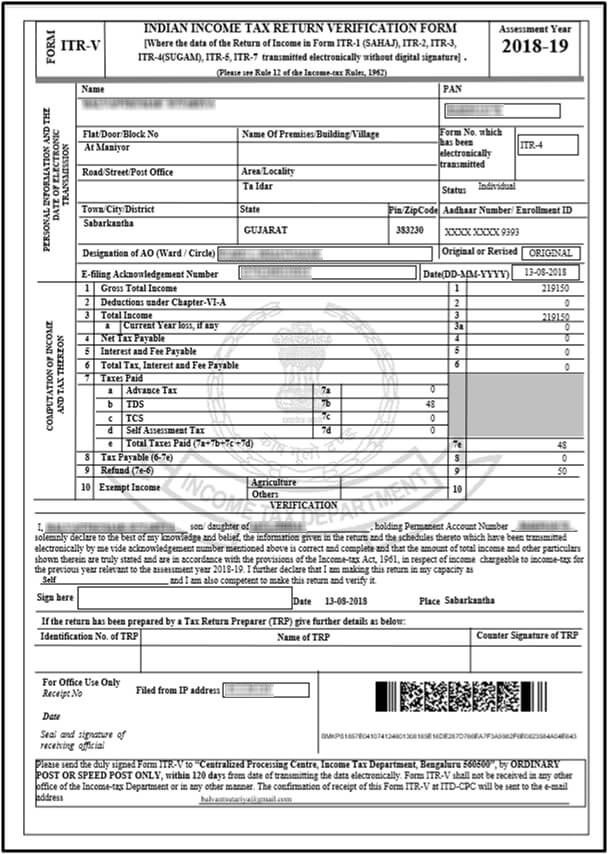 ---
Step 7: Now to verify your ITR offline, you have to post a clear & properly visible printout to the Income Tax Department office (i.e. CPC) in Bengaluru. And the post should be done using either an Ordinary Post or a Speed Post (you cannot send it through a courier or any other method).
Printed ITR-V should be sent to the following address:
"CPC, Post Box No - 1, Electronic City Post Office, Bangalore - 560100, Karnataka, India"
Once your ITR-V is received by the department, an SMS will be sent to your registered mobile intimating the "receipt" of ITR-V. Please note, this intimation is just for "receipt" & a separate intimation will be given for processing of ITR.
---
Some very important points to consider to verify ITR-V offline.
The ITR-V print out should be clear and in black ink.
Bar-code and the numbers written below must be clearly visible
ITR-V is a single page document, so you should not write anything behind it (on the blank portion).
You should sign the ITR-V (which should match with your signature on PAN card) & it should be signed with blue ink.
ITR-V should be printed on A4 size paper only and it should not be folded.
ITR-V should be sent through Ordinary Post or Speed Post. Any ITR-V sent through couriers won't be accepted.
Lastly, you do not have to send any document along with ITR-V.
---
Frequently Asked Questions
Q

- What if ITR is not verified?

Ans. An ITR filed but not verified is treated as an invalid return by the department.
---
Q

- What if ITR is not verified within 120 days?

Ans. Time limit to E-verify the return is 120 Days if missed the date than return would be considered as invalid return.
---
Q

- What happens if ITR not filed?

Ans. Taxpayer may get a notice from the Income Tax department.
---
Q

- What is the penalty for late filing of ITR?

Ans. Penalty for late filing of Income Tax return u/s 234F is Rs. 5000 if income is above Rs. 500000/- otherwise Rs. 1000/-
---
Q

- What is the due date to send ITR-V to CPC?

Ans. ITR-V needs to be sent to CPC within 120 days of filing of Return.
---
Q

- How to get a duplicate ITR-V?

Ans. It can be downloaded by login into the Income Tax Site.
---
Q

- How can I change the email address mentioned in my ITR-V?

Ans. To change email address, you need to login to income tax portal> my account>and edit the address > save>done.
---
Q

- Should I send a photocopy of the duly signed ITR-V?

Ans. Yes, taxpayers need to send ITR-V to CPC.
---
People also ask
Related Searches